The Céramique-Paris teachers
Anne Claire Martin
Elisabeth Ratier
Kayoko Hayasaki
---
Kaori Kurihara
---
Laurence Franceschini
---
Monica Degain
---
Jean Paul Bornier
---
Anne-Claire Martin Porcelains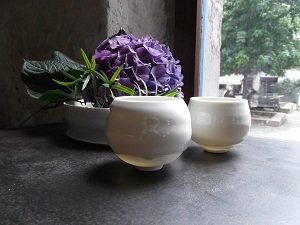 I work porcelain recent years after a training session with a turner of the Manufacture de Sèvres.
Travel to Japan in 2007 and 2009 were instrumental in the creation of the pieces, clean, simple, modeled lap and now systematically distorted.
I like to feel my bowls turn, move, while keeping their balance ... they are worked into the finesse to shoot up to the limit of the strength of the porcelain paste.
The burned-enamel at 1270 ° C in an electric furnace for the descent of the material along the wall and the formation of the blue bead and bright contrast with the whiteness of the foot left naked.
They speak to me the poetry of the feminine universe in the delicacy of color, shape and flexibility of an apparent fragility ...
Anne-Claire teachs :
Wednesday 03:00 pm - 06:00 pm
Wednesday 06:00 pm - 09:00 pm
Thursday 03:00 pm - 06:00 pm
Thursday 06:00 pm- 09:00 pm
More information about ceramic courses ?
Need write us ... ?
Anne-Claire Martin's website
---
Elisabeth Ratier adventure ceramic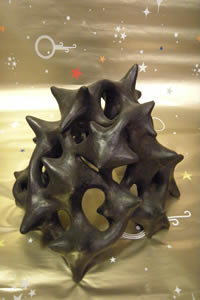 I make ceramics for over 10 years and I never get tired of always learning new technologies and get to know new artists. Ceramic is a great way to open up to new cultures. It est aussi a time of healing, concentration and calm.
I Was ble to travel the world to work with very different artists Including Asia (China, Japan, Korea) and Africa. I am now using bronze sculpture Regularly the lost wax in Burkina Faso.
In my classes so I passed first tries to basic footwork Including shooting to allow Students to Express Their creativity And Then to Develop Their personal style.
Elisabeth teachs:
---
Kayoko Hayasaki « Enamels joy »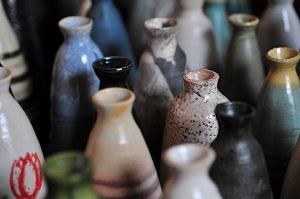 The main sources of inspiration for Kayoko Hayasaki to create its bottles and vases are:
The clay : taken from his garden in Burgundy / White stoneware chamote smooth or fine / Sandstone St-Amand, Moutier / Blend coffee beans / Shigaraki, Japan.
Enamels : all original glazes are created by Kayoko / Without enamel.
Techniques : drawing and coloring oxides / reserves / stencils / inlay glazes.
Cooking : glaze oxidation / Mono cooking / Raku / Raku nu / Wood stove in Japan.
Kayoko teachs:
---
Kaori Kurihara Porcelain sculpture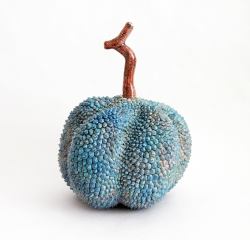 I draw inspiration from nature especially from the vegetable and marine world, paying particular attention to shapes and their geometrical repetition.
Every element of nature seems to be repeated but in fact there is an infinite diversity. Then I have a profound desire to make concrete the fruits and animals represented in my mind and to be able to contemplate them through my own eyes. From this idea I try to create pieces that are both realistic and dreamlike.
In the course, I propose mainly colored modeling, color decollation. I would like to share the interest of the world of ceramics with you!
Kaori teachs:
Kaori Kurihara's website
---
Laurence Franceschini Grès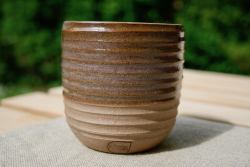 While I was sleeping in a ryokan (traditional Japanese inn) in the center of Kyoto, I was in a thousand places to imagine that later, after 15 years in consulting companies, I will be led to launch my brand near Paris, Atelier Ryokan, And to move towards a new profession. Now I work the earth (sandstone and porcelain) in order to help give and even give back its place to art in our daily lives.
My teacher, Mrs Kayoko Hayasaki, was able to pass on her passion to me and I thank her very much. CAP Ceramic turning validated, I always remain attentive to his generous recommendations.
In my workshop, I devote my research to shapes, rather round and refined, as well as recipes of enamels, soft colors, shiny or satin, in a soothing calm. Each of my creations, mostly utilitarian, is unique or made in small series.
Beginning in April 2017, I joined Maison Revel, Pôle des Métiers d'Art d'Est Ensemble, in Pantin, to have a larger workshop in order to continue practicing and developing my full-time ceramic activity.
Laurence teachs:
Laurence Franceschini 's website
---
Monica Degain « Forms and substance... »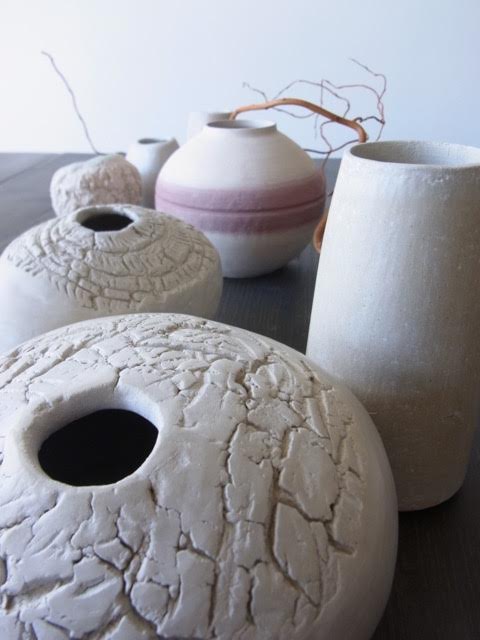 Even though my passion for clay dates back to my childhood, my activity around ceramics began at the Mire workshop, a few years after leaving my hometown, Rio de Janeiro, to settle in France.
After the training on basic techniques and for more than 15 years now, I realize my pieces while continuing my learning with the meeting of different ceramists in France or elsewhere, where all the subjects fascinate me - , The composition of enamels or the different types of cooking.
The world of ceramics is limitless, and I continue in the exploration of detail or a different technique - all these possibilities are available to what will become an object of the gaze or use in our daily life ... .
In the lessons, I try to transmit this passion, share my knowledge through the different techniques, while remaining listening to each student for his personal creation.
Monica teachs:
---
Shinobu Frot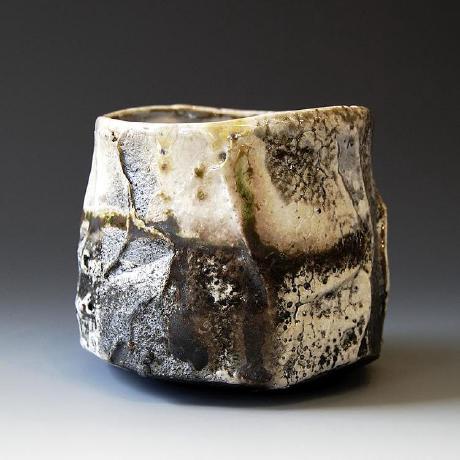 Shinobu teachs:
---
Jean Paul Bornier Raku et sculpture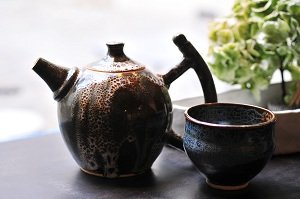 Discovered sculpture in cabinet making father's workshop.
Trained in ceramics by François Eve, potter in St Amand puisaye, who introduced him to the raku ceramics.
Then worked in the sculpture studio of Peter Merlier (ranked among the satirical sculptors)
Major exhibitions:
Galerie St Nicolas: Auxerre exhibited his sculptures with paintings Chambaz Fanti, Biasi, Rancillac, Bartolini, Velikovick.
Numerous group exhibitions at the Centre Regional d'Art Contemporain de Bourgogne.
Exhibition at the museum in Ludwigshafen (Germany) (purchase of two sculptures by the regional council)
Art Gallery Yolann in La Baule.
Gallery Contemporary Art Investment (Paris)
Group exhibition at the MUSEO CIUDAD (Valencia, Spain)
Galerie Jean Cocteau (Villefranche sur Mer)
Sydney space Caron Paris (exhibition of sculptures and creating a line of jewelry neo cubist)
---